Connecting with Nature
There is more and more research demonstrating how important it is for children to connect with nature, both for their health and for the environment. Having a good connection with nature has been proven to be beneficial for physical and mental health in children and adults. There is also much research that shows that people with a greater connection to nature are more likely to respect wildlife, habitats and the environment. For these reasons, at Busbridge Infant School, we value connecting with nature very highly, and it forms one of the foundations upon which Woodland School is built.
During Woodland school, we connect with nature in a variety of ways. We always start our sessions with our 'deep Woodland breaths'. This mindful moment allows us time to listen to the nature around us and appreciate what we can hear, whether it be the wind in the trees, the rain on the pond or the birds singing. Our Woodland school learning is often closely linked to the elements and the seasons, giving us time to really experience and appreciate the natural environment around us. Woodland school also allows us time to observe and connect with the living things in and around the school grounds. We do this through bug hunting, pond dipping, tree and plant identification and deep learning around specific species.
Last week Year Two enjoyed some deep learning about worms. They played a game to help them to understand the predators of worms. They made some amazing observations when exploring questions such as; Does a worm have a front end and a back end? Does it matter? How do you know? How does a worm move? Can you find evidence that worms were here? Where is a worm's heart? Is your worm an adult or a young worm? They also made wormeries to help them to learn more about what worms like to eat. They are looking forward to observing them closely again next week to see if the worms have pulled the leaves under the soil. They even used their new worm knowledge to carry out some worm charming. Perhaps you could ask your child to share, with you, their favourite worm fact?
This week Year One have been connecting with trees. They enjoyed choosing their favourite tree and telling us all why they like them so much. We are looking forward to visiting our favourite tree over the course of the year to see how it is changing with the seasons. They enjoyed the leaf challenge and explored how many different leaves they could find and identify. They also learnt some new scientific vocabulary to describe trees, allowing them to sort their leaves into leaves from deciduous trees and from evergreen trees. I wonder if they can tell you what to look for when deciding if a leaf has come from an evergreen or a deciduous tree?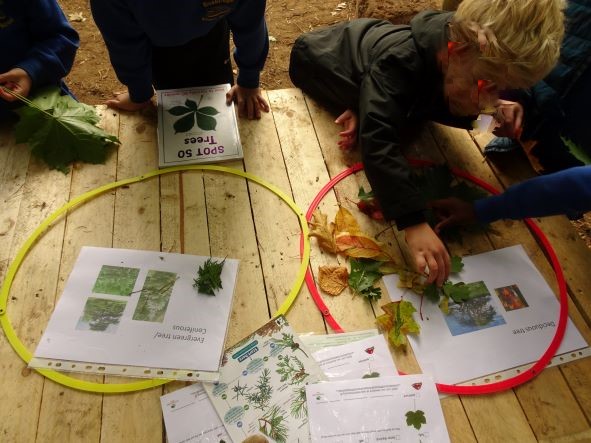 If you would like to read more about nature connection there is lots of information out there. Here are a couple of articles that could get you started.
https://www.rspb.org.uk/our-work/conservation/projects/connection-to-nature/
https://www.nationaltrust.org.uk/features/connecting-kids-with-nature