Ifeoma Onyefulu Visits Busbridge Infant School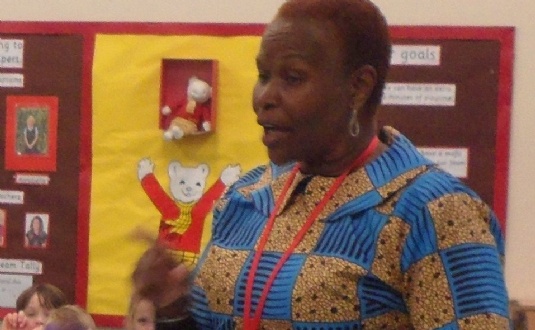 Busbridge Infant School end their own Book Week celebrations with an author visit.
To celebrate the school's own Book Week and appreciate Black History month, children at Busbridge Infant School had the pleasure of meeting Ifeoma Onyefulu. Ifeoma was invited and welcomed by everybody at the school on Thursday 21st October.
She said, "The staff at Busbridge Infant School were very friendly and helpful which made my workshop with the pupils a lot easier. Especially the teachers who were very interested and engaging, some even sat in the floor with the children. I believe their enthusiasm was great for the workshops!"
She explained how she takes an idea and develops them over time, by writing, rewriting and more re writing! It took her a long time to finalise her award winning book, 'A is for Africa'. She told stories, engaged the children with songs and humour and captured their imagination and sparked the most creative responses from some of our children!
The children saw her collection of photographs from her native country which she used to illustrate her work. She answered questions and explained a little about her culture telling the children that she speaks a language called Igbo also called Ibo which is often used in southeastern Nigeria.